When a car accident leaves the victim with catastrophic injuries, their life and their family's lives are changed forever. Permanent injury, a lifetime of medical care and the inability to perform even the most basic functions of life are all very real possibilities. An experienced Modesto car accident lawyer can help the victim achieve the maximum financial recovery and begin to reclaim their life.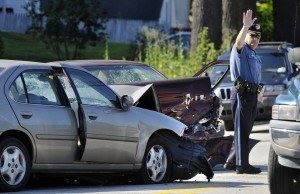 Types of Catastrophic Injuries
The permanency or long-lasting consequences of any serious injury can be catastrophic in many ways. The physical and emotional toll is devastating, and the financial costs can be overwhelming; not only is the earning power of the victim severely diminished or completely extinguished, the medical bills are staggering. Some of the more common catastrophic injuries a Modesto car accident lawyer reports seeing include:
Traumatic brain injury
Spinal column injury
Amputation
Burns over a significant portion of the body; can result in disfiguration and nerve damage
Loss of eyesight
Causes
It can be a mistake to judge how badly a victim has been injured by observing the vehicles involved in a car accident, but the damage is most often obvious in situations resulting in a head-on collision, a rollover or a T-bone collision. The most common single cause of car accidents, as a Modesto car accident lawyer can attest, is driver distraction, which is defined as any action that takes the driver's focus off of the primary task at hand, which is driving.
Proof of Damages
Other than establishing the negligence of the other driver, a Modesto car accident lawyer must demonstrate the economic cost of the future medical care that will be necessary, as well as the potential loss of a lifetime of earnings. Calculations for other losses such as pain and suffering, mental anguish and loss of enjoyment of life must also be made, which makes a catastrophic injury case different than most car accident claims.
Contact a Modesto Car Accident Attorney for Legal Advice
No amount of money is going to fully compensate the victims of a catastrophic injury, but it is the only way of achieving some measure of justice. Be certain you receive all that you are entitled to. Call the Law Offices of Rancaño & Rancaño, a Modesto car accident attorney group, at (209) 850-7379.